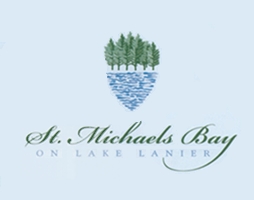 Fashioned along the shoreline of what may well be the most beautiful bay on Lake Lanier, St. Michaels Bay enjoys pristine lakefront surroundings with spectacular views. A rambling creek and freshwater streams traverse the more than 125 acres of richly wooded and gently rolling land that comprise this exclusive new community. Bounded by Lake Lanier and the U.S. Army Corp of Engineers with a common boundary of over 7,000 feet, St. Michaels Bay is a haven for nature as well as for families.
With only 128 beautifully designed homes, St. Michaels Bay is a rare and limited opportunity to enjoy a remarkably charming lakefront neighborhood. Beginning with its gated entrance and Signature Park, St. Michaels Bay is reminiscent of a quaint, New England village resting along a magnificent lake. Luxuriously landscaped park, stone-column bridges, sidewalks, nature trails and vintage streetlights under a canopy of hardwoods create an incomparable setting offering the very best in lake living.
Offering all the resort-style recreational amenities of a much larger community - without the crowds - St. Michaels Bay Club is just a few footsteps from the lake and offers the ultimate in family fun, with a charming clubhouse featuring a large gathering room and a kitchenette for neighborhood events. The park-like recreation grounds include a Jr. Olympic swimming pool and two lighted tennis courts, an open play area and a fully equipped children's playground. Just a short walk away, the St. Michaels Bay Marina offers private slips and is exclusively for the residents of St. Michaels Bay.
While most homes bordering the lake also border on a million dollars or more, the luxury of St. Michaels Bay is its comfortable affordability with prices ranging from the $500s to over $800s.