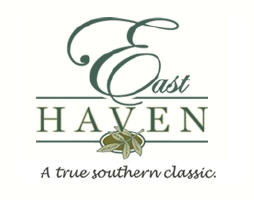 A community of 36 classically designed, custom homes with state-of-the-art technology. East Haven offers a wonderful pedestrian-friendly neighborhood that's just steps to downtown.
East Haven is downtown Covington's newest and most upscale community of fine homes, designed with a historic flavor to complement the many beautiful old homes built in times past. This new community was designed by Peter Drey and Company, a well know urban design and community planning firm located in Atlanta Georgia. Peter Drey and Company have been at the forefront of efforts to design new communities that blend the benefits of traditional neighborhood living with modern lifestyles.
East Haven is located 30 minutes from the Atlanta perimeter in the historic district of Covington, Georgia. Thirty six exclusive addresses conveniently located in one community. It is only 2 minutes from Interstate 20, providing ready access to jobs and big city activities. Yet, it is tucked away in a small town setting, near good schools, Lake Oconee, Lake Jackson, Indian Creek Golf Club, and other local attractions. East Haven has it all - the convenience of being near the big city, and the quality of life of small town Georgia.